Following the process of publishing the textbooks of Afghan universities, especially those of Nangahar and Khost universities, we went to Nangahar University from January 29 to 5th February 2022.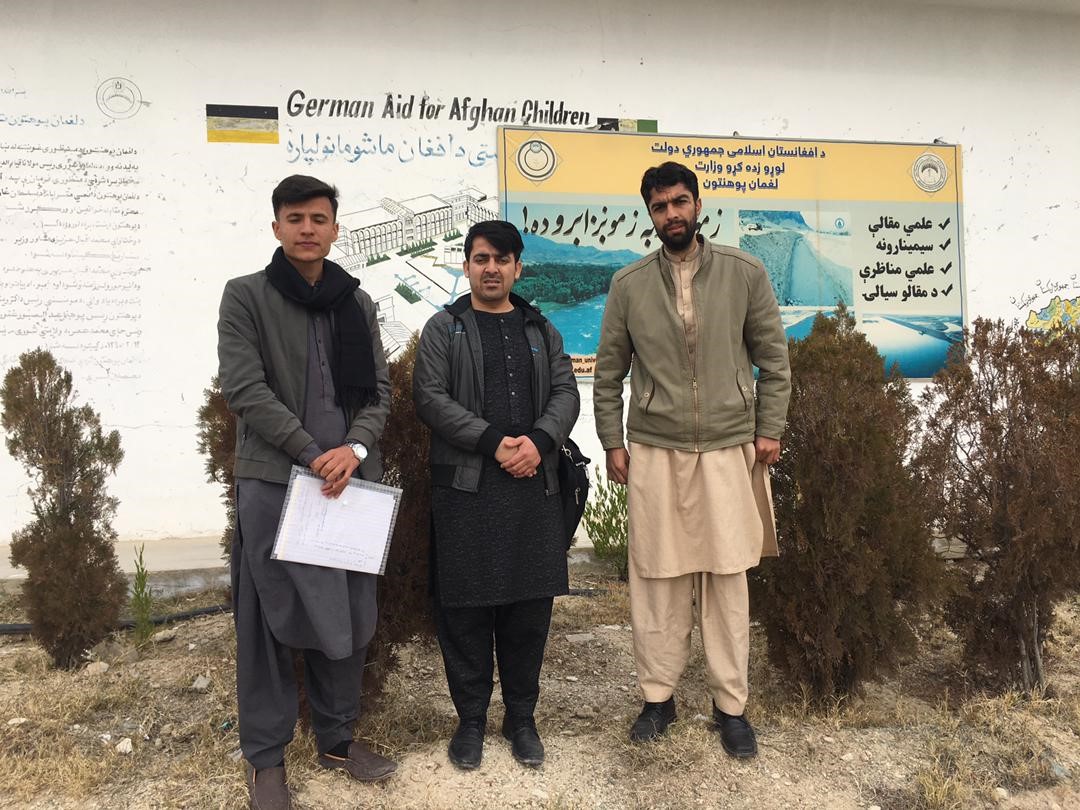 After arriving at Nangarhar University in the early hours of Saturday morning, we met with Mr. Behsoodwal, Chancellor of Nangarhar University, and Ghazi Khalid Sadaqat, Vice-Chancellor of Finance and Administration from the Ministry of Higher Education at Nangarhar University, where a comprehensive talk took place regarding the textbook publishing process since 2010.
The Chancellor and Vice-Chancellor of Nangarhar University expressed their support for the process of publishing books for Nangarhar University and other universities and announced their readiness to help and cooperate with us.
Firstly, we visited the public library of the Eidgha Mosque in Nangarhar and presented them with 60 volumes of books of various titles that had just been published. Subsequently, we went to the Faculty of Engineering and met with professors such as Ebad-ur-Rehman Momand, Engineer Essa Tanha, and Engineer Bahaudding, who are professors in the relevant faculty and are also the authors whose books were published in 2021. Their printed book was handed over to them. These authors announced their support and thanked Dr. Eroes, with whose financial support 290 different medical and non-medical books have been published for the University of Nangarhar from 2011 to this year. They also expressed their gratitude to Dr. Yahya Wardak, who published this series of books for Nangahar and Khost universities in the last few years. They also asked for their cooperation in the future and during this difficult time in Afghanistan.
In order to be able to provide information to all the professors of Nangarhar University and also have book's agreement form/Request from all the faculties of Nangarhar University for this year, we started visiting from all the faculties one by one and met with all the deans of the faculties. We talked about printing books and noted their needs.
It should be noted that heads of faculties expressed their gratitude, and we could encourage them to write and translate books for Afghan students. We were able to collect about 20 urgent Agreement/Requests forms, and a number of professors from Engineering, Science, Economics, Journalism, Agriculture, Public Administration, Veterinary, Education, etc. promised to send their book requests in the early future. They approached and said that they each had a work in progress and would soon have their books ready for publication.
During this visit from the faculties, we provided samples of books and information, which contained a booklet of information on the textbook printing process for Afghanistan, a guided CD for each author, and a collection agreement form for each faculty, which resulted in the satisfaction and support of the professors in this process.
We also went to Laghman University on Monday, January 30, to cover and deliver our support regarding providing the textbooks for them. During this visit, we met with the Chancellor of Laghman University, Mr. Esmatullah Durrani, and the Executive Vice-Chancellor of Laghman University, Mr. Mirwais Sediqmal. They thanked the books donated to Laghman University and their library and asked for more books to be published and delivered to the library of Laghman University.
Laghman University has faculties of Sharia, Education, Agriculture, Engineering, and has recently had a faculty of Economics. This university is newly established and needs more books for the libraries of the faculties as well as their public library.
In order to encourage the professors of the relevant university, we visited the faculties of Engineering, Agriculture, Economics and talked to the Deans and professors of each faculty.
At the end, all the lecturers and authors supported this process and considered the publication of books for Afghan universities in such a situation an urgent need. They also thanked Dr. Eroes and Yahya Wardak and asked for the continuation of this process for the coming years. They took us to the libraries of each faculty and showed us that their libraries were empty of books and expressed that more books would be donated to their university.
Hekmatullah Aziz
Jalalabad, February 2022