I returned to Afghanistan in 2009 after completing my college education overseas, living as a migrant, and engaging in some charitable work. I published five textbooks as starting working at the faculty of medicine at Nangarhar University. We opened an office in the Ministry of Higher Education and developed a method for providing textbooks for universities in order to continue this effort, which is still in progress.
With the assistance of university professors, we printed and published more than 400 thousand copies of a total of 369 textbooks between 2009 and 2022, and we freely distributed them to all universities across the country. These books are related to medicine, veterinary medicine, pharmacy, psychology, engineering, science, economics, journalism, public administration and policy, languages and literature, business and administration, agriculture, and so on.
Our goal is to serve students, professors, and Afghan institutions by converting outdated chapter notes into standard textbooks and providing quality textbooks to the country's universities.
Many articles on the topic are included in the book you are holding right now, and the information they contain could be crucial for Afghan students, teachers, the Ministry of Higher Education, colleges, donors, and universities. The educational needs, issues, difficulties, suggestions, and methods for gaining entry to the country's higher education system have been outlined in this book.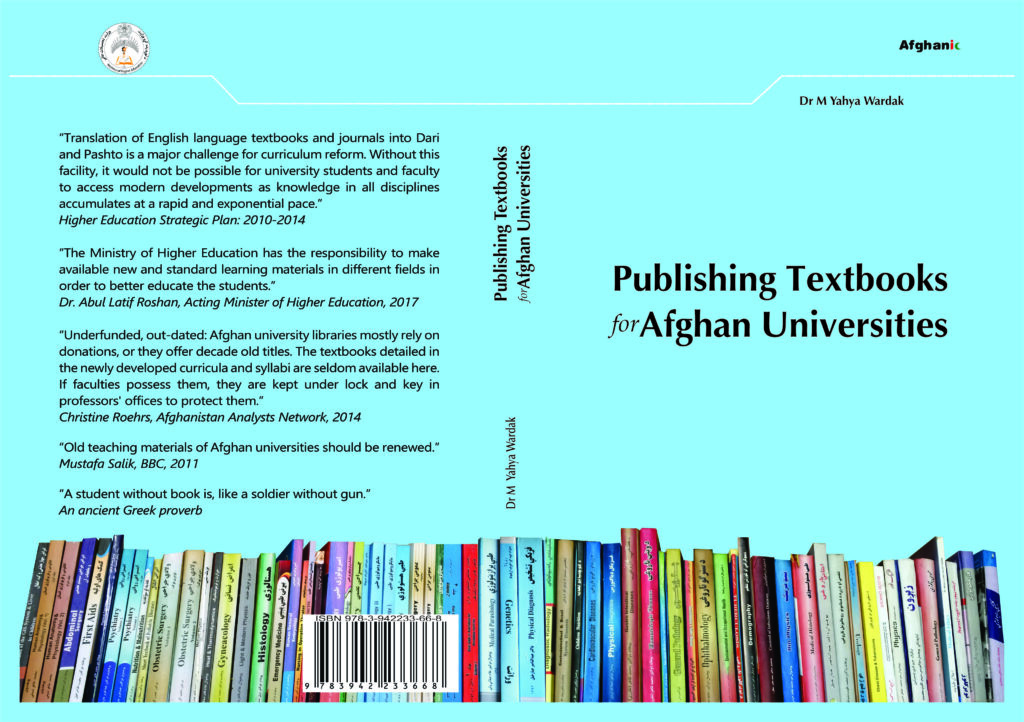 In this book, comprehensive and detailed reports on the activities of Yahya Wardak's office in the Ministry of Higher Education from 2009 to 2022 are provided. This office worked with eminent professors from Afghan universities to provide textbooks, print, and distribute them to the country's universities. A list of printed books, distribution series, meeting reports, letters of appreciation, published reports, articles, reactions in the national and international media, internal and external trips, speeches, interviews, and photographs are also included.
The five major sections of this book are as follows:
In the first part, there are opinions, suggestions, and advice that have effectively explained the traditional system of higher education in Afghanistan, as well as its requirements, issues, and instructional practices.
The second part contains a detailed explanation of the textbook publishing process.
In the third part, there are reports from our office about the activities of preparation, printing, and distribution of textbooks, which have explained each activity together with all the details.
In the fourth part, the textbooks are explained in the context of the media. In this section, a number of articles, writings, reports, and interviews have been brought together with related letters that have appeared in the national and international press, either printed or published online.
In the fifth part, there are a number of books posters, appreciation letters, pictures, and references about the process of printing and distributing textbooks, which have been documented step by step over the last 14 years.
We hope that the content of this book will not only be interesting to the readers and the national and foreign authorities involved in Afghanistan's educational affairs but will also strengthen the spirit of cooperation and assistance related to this important national process.
Reading this book can have at least four benefits:
You will know what I have done in Afghanistan in the last 14 years.
In addition to describing the current situation of Afghanistan's universities, the Ministry of Higher Education, and students, several challenges will be pointed out to you.
Also, higher education officials will benefit from this information and advice in training our next generation.
Other individuals, institutions, and organizations will be encouraged to document their work and the progress that they have achieved for Afghanistan.
I want to extend my heartfelt thanks to the university professors in Afghanistan, the deans and chancellors of universities, and the supporting organizations that have assisted us in this worthwhile trip and have not been sparing in their collaboration and assistance.
Regards
Yahya Wardak Bonn, Germany, 2023
you can downlead the Publishing Textbooks complete book from the following book.